Location: Spain – Catalonia – L´Alt Urgel – Fígols
---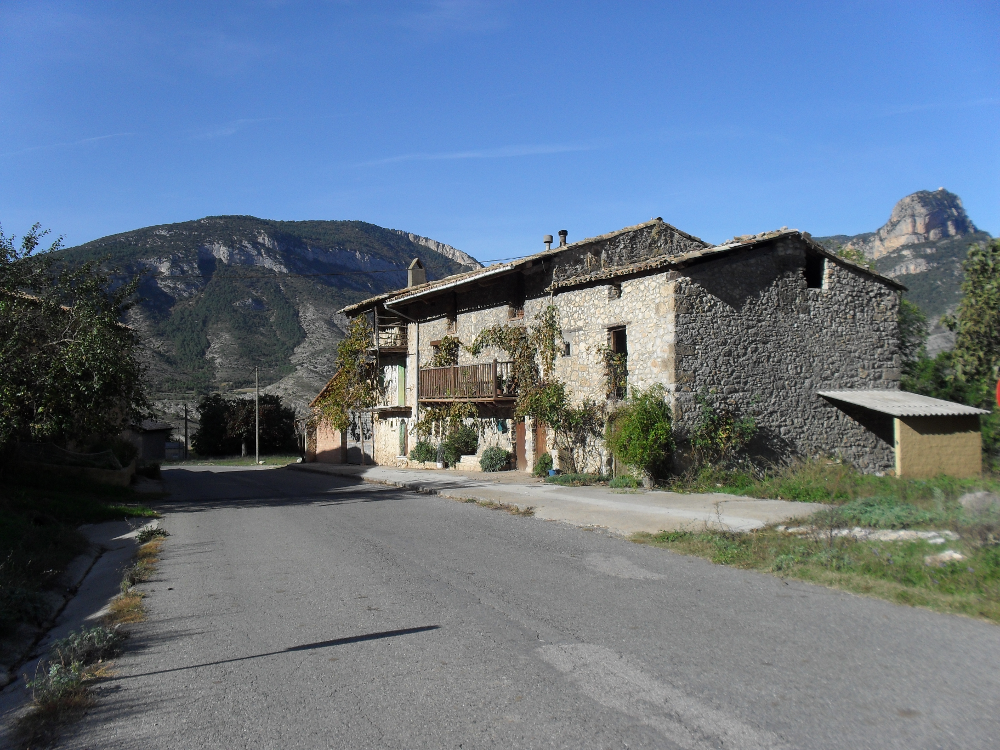 ---
Overview:
Small and relativly new climbing area. There are routes for everybodys likings. From easier routes on slightly slaby till vertical walls with small holds till athletical, up to 35m high routes in upper grades.
---
How to get there:
From Oliana drive the C14 northwards in direction of Andorra/ La Sei d'Urgell. Between the villages Coll de Nargó and Organyà turn right in direction of Figols y Alinya/ St. Lorenc de M.. Directly after the bridge turn left and follow the street. Within sight after the first few houses is the parking place located on the left at a entry of a field road just before a sharp left turn. Attention: Don't Park in a way that farmers couldn't pass with agricultural vehicles.
GPS: N 42.200020 E 1.340571
From the parking place cross the street and follow the field road at the walking sign for a few meters. Take the first field road at the right and afterwards follow the path (to the right) leading up to the crack. (10 – 15min.)
---
Accommodation:
If You have a car/van/motorhome with sleep accommodation, You can directly stay at the parking place or in other nearby parking bays.
Otherwise there are nice holiday appartments to rent located at the village of Organyà, "Cal Rafelo".
---
Shopping:
Food:
Small food stores in Organyà, many food stores in Oliana.
Water:
Coming from Oliana at the entrance of Organyà there is a spring with drinking water quality located behind the outdoor fitness equipment at the left side of the street.
Climbing equipment:
The nearest climbing shop is located in Andorra.
Guidebook:
You can buy the guidebook "Lleida Climbs" at the bar "Can Palau" in Oliana.
---
Best season:
From september till may; In the winter months it could be very cold due to north/northwestern orientation. In warmer days best conditions could be found from morning till mid-afternoon.
---
Type of rock:
Limestone, partly with tufas
---
Type of climbing:
At sector " Figols a l'Ombra" there are up to 35m high routes between 8a and 8c+/9a. Because of tufa-like structures there are often good holds but bad footsteps. At the upper part small crimps are waiting for pumped forearms. In the other sectors there are mostly slightly slaby to vertical easier routes with small holds.
---
Nearby climbing areas:  Oliana (20km), Tres Ponts (8km)