Location: Spain – Aragón – Parque natural de la Sierra y Canones de Guara – Rodellar
---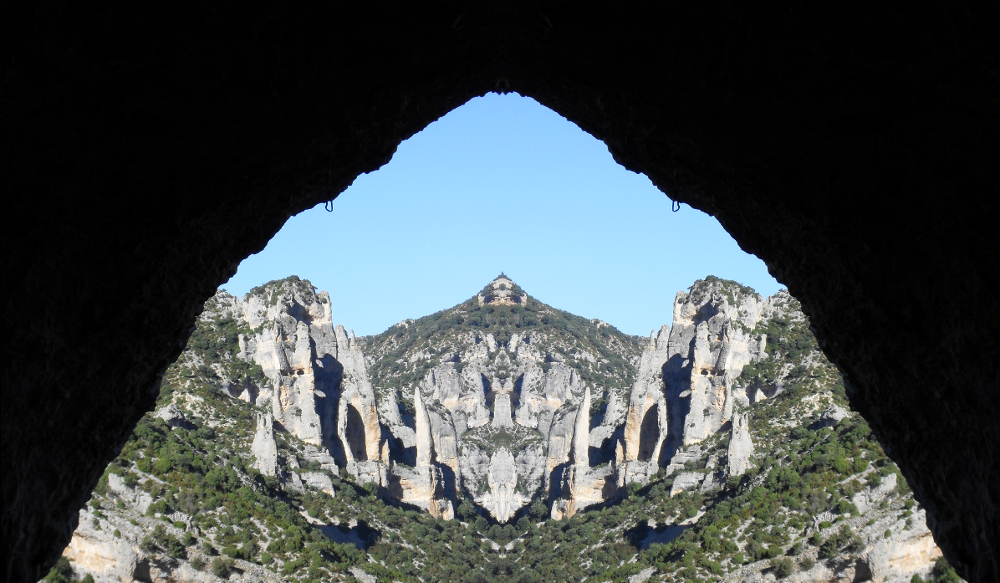 ---
Overview:
Picturesquely situated valley high up in the pyrenees with very overhaning routes on good holds and many tufas as well as a little river to cool down on hot summerdays.
---
How to get there:
Leave AP-7 in direction of Barcelona at the exit Girona airport to C-25 in direction of Vic. Keep on following in direction of Manresa, Tàrrega and finally drive at A-2 in driection of LLeida. Surround LLeida and drive at A-22 in direction of Monzón/Huesca. Take exit number 77 and drive at A-1229 in direction of N-240 Abiego/ Bierge. Follow till Bierge and afterwards take HU-341. Pass the village of Las Alumnias and drive up to Rodellar.
GPS: N 42.282621, E -0.078724
If You want the avoid the long journey by car, going there by plane could be a option. Many airlines offer low-cost flights to Barcelona. From Barcelona airport it takes about 3h going to Rodellar by car. In Spain rental cars are offered for a low price (about 10€/day), meaning going there by plane could be even less expensive.
---
Accommodation:
Kalandraka: Easy-going hostel with bar; Accommodation in communal bunks or Bungalow
Camping Mascún:
Valle de Rodellar Aparthotel: Hotel and Apartments

---
Shopping:
If You prefer self-catering it is recommended to do bulk buying before driving up to Rodellar. The nearest shopping centers are located in Barbastro (47km) or Huesca (60km).
There are small shops in the hotel and at the campsite Camping Mascún, where You can buy essential foodstuff; however in little variety and a bit more expensive than in Barbastro/Huesca.
Drinking water: In the town center of Rodellar is a well with drinking water quality. Alternatively You can fill up Your water bottles with fresh spring water directly from the spring at the opposite of the sector "El fuente".
You can buy the guidebook almost everywhere. Ther version with the black cover is a bit more up to date (2014).
A small climbing shop is located at the drive-up to Camping Mascún, but is only open at the main season (july/august).
---
 Best season:
September/october. Depending on wheater it is possible climbing the whole year.
The temperatures are less problematic than the humidity, caused by water filtrating through the rock after long-lasting heavy rains.
The main season in Rodellar is in july and august, but the temperatures could be very high.
---
Type of rock:
Limestone
---
Type of climbing:
Typically are extrem overhanging and additionally very long routes. The (mostly) very good holds make extraordinary overhanging routes possible, even in lower grades. Additionally there is a lot of tufa-climbing in many routes. An other singularity is the high number of kneebars. So don´t forget Your kneepad!