Location: Spain – Valencia – Los Serranos – Chulilla
---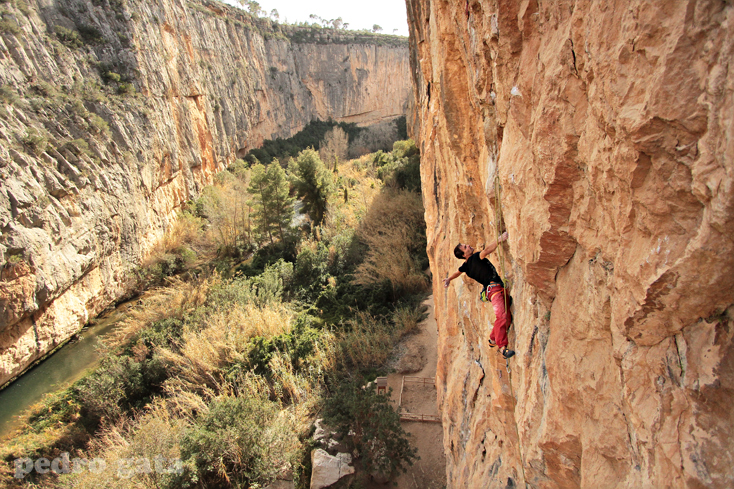 ---
Overview:
Up to 70m high walls of rock at both sides of Turia river offer plenty of sectors in all orientations. Typical are the long technical routes on vertical till slightly overhanging but often very slippery rock.
---
How to get there:
Depending on means of transportation there are different ways to get to Chulilla:
By car: From Valencia drive C – 35 in direction of Ademuz. After about 50km take the exit in direction of Losa del Obispo/Chulilla and follow CV – 394 about 10km till Chulilla.
By public transport: There´s a bus from Valencia (central bus station) to Chulilla and back once a day. Timetable here
Because of the closeness to Valencia (60km) You can get there by plane very easily.
---
Accommodation:
In Chulilla exist differnt types of Accommodations:
If You have a car/van/motorhome with sleep accommodation You can stay at some parking places.
Numerous holiday appartments to rent
---
Shopping:
Foods:
Small footstores in Chulilla.
Water:
There is a big parking place located at the entrance to Chulilla. At the opposite there is a spring located behind the childrens playground.
Guidebook:
You can buy the guidebook "Chulilla" at the kiosk located at the central village square.
---
 Best season:
September till may; Numerous sectors in all orientations. Due to the mild climate in the area around Valencia it is a perfect destination for winter times.
---
Type of rock:
Limestone, partly with tufas
---
Type of climbing:
The long, tecnical demanding routes on vertical to slightly overhanging rock are typicall. The rock is partly very slippery, demanding a excellent food tecnic and good conditions.