Location: Spain – Catalonia – Montsant – Margalef
---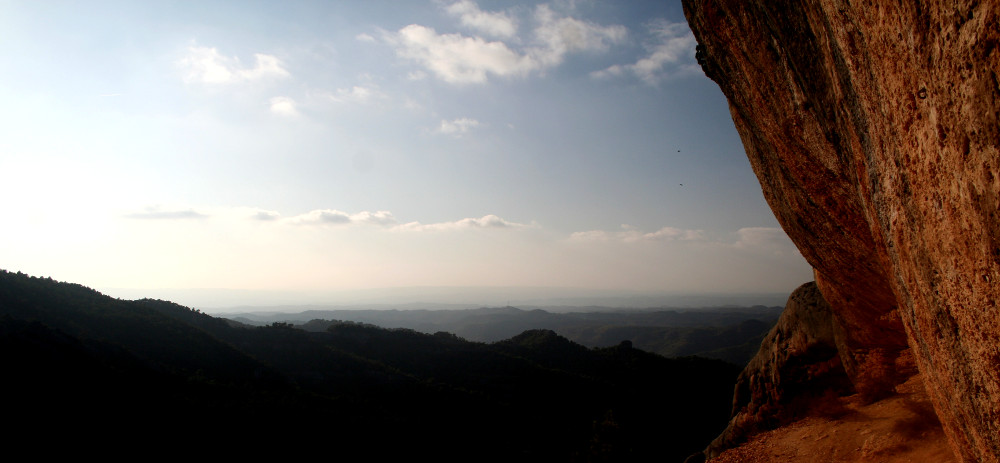 ---
Overview:
Margalef – that´s steep athletical pocketclimbing on belly-like formed rock formations. Together with high variety of sectors and routes.
---
How to get there:
By car: Pass Barcelona via AP-7 / E 15 in direction of Lleida/Tarragona and follow AP-2/ E 90 in direction of Lleida/Zarragoza. Take exit 8/l´Albi and follow LP-7013 in direction of "El Vilosell", "La Pobla de Cérvoles". Cross the named villages and go on in direction of C 242 Bellaguarda/ La Granadella. Bevore Bellaguarda turn left on T 713 in direction of Margalef/ La Bisbal de Falset and go on till the village of Margalef.
If You want the avoid the long journey by car, going there by plane could be a option. Many airlines offer low-cost flights to Barcelona. From Barcelona airport it takes about 2,5h going to Margalef by car. In Spain rental cars are offered for a low price (about 10€/day), meaning going there by plane could be even less expensive.
It´s even better if You take a flight directly to Reus. From Reus take the C 14 in direction of Tarragona/ AP – 7. Afterwards take T 11 in direction of Falset and follow on N-420. Exit on C 242 in direction of "Les Borges del Camp". Cross the villages of "Alforja", "Cornudella de M.". Bevore Bellaguarda turn left on T 713 in direction of Margalef/ La Bisbal de Falset and go on till the village of Margalef.
---
Accommodation:
There are different accommodations in Margalef.
There are official camping grounds. The campground "La Presa" is located in the first valey at the big parking place just bevore the dam. The campground "El Pont" is located near the village behind the olive-factory.
Margalef has a hostal. You can also buy the guidebook there.

"El Racó de la Finestra"


Carretera, núm. 7
43371 Margalef
+34 977 81 90 08
refumargalef@yahoo.es
Apart from that there´s a hotel called "Els tres Pins" to stay. It is located at the main road just bevore the turn at the other side of the bridge.
---
Shopping:
Foods:
Bevor arriving to Margalef You should make a big shopping because in Margalef its own as well as in the nearby locality there are only very little shops offering only the bar necessities. The nearest bigger shopping centers are located in Reus or Lleida. In Margalef the little shop is just bevore the church at the left side coming from the parking place and going up to the village square.
Water:
There is a fountain with drinking water quality with the inscription "Agua de Sant Salvador" located at the village square. Alternativly You can get drinking water directly from the spring located at the top of valley number 2. (Attention: Very steep and narrow winding road.
Climbing equipment:
Small climbing shop in Cornudella de Montsant ~33km, Goma2. Follow the main street in direction of Reus. It is located at the village exit at the left side bevore the petrol station.
---
 Best season:
October till april/may
---
Type of rock:
Conglomerate
---
Type of climbing:
Steep, athletical pocketclimbing. Typically are also the belly-like formed rock formations.
---
Sectors:
There are 2 main valleys for climbing
Valley 1:
Drive from Margalef in direction of Ulldemolins/ La Granadella. About 1.5km after the village exit there is a ruined stone house and a sign "Embarrament de Margalef". Turn off to the right and follow the street. In this valley are most of the sectors.
Valley 2:
Small valley with a handful of nice sectors. Coming from Ulldemolins/ La Granadella stay at the main road in Margalef. Just bevore the the bend, turn off to the left and drive over the bridge in dirction of the hotel/restaurant "Els tres Pins" and follow the road in direction of "Ermita Sant Salvador".
---
Nearby climbing areas: 
Siurana ~40km, Montsant ~42km