Location: France – Provence-Alpes-Côte d'Azur – Vaucluse – Saint-Léger-du-Ventoux
---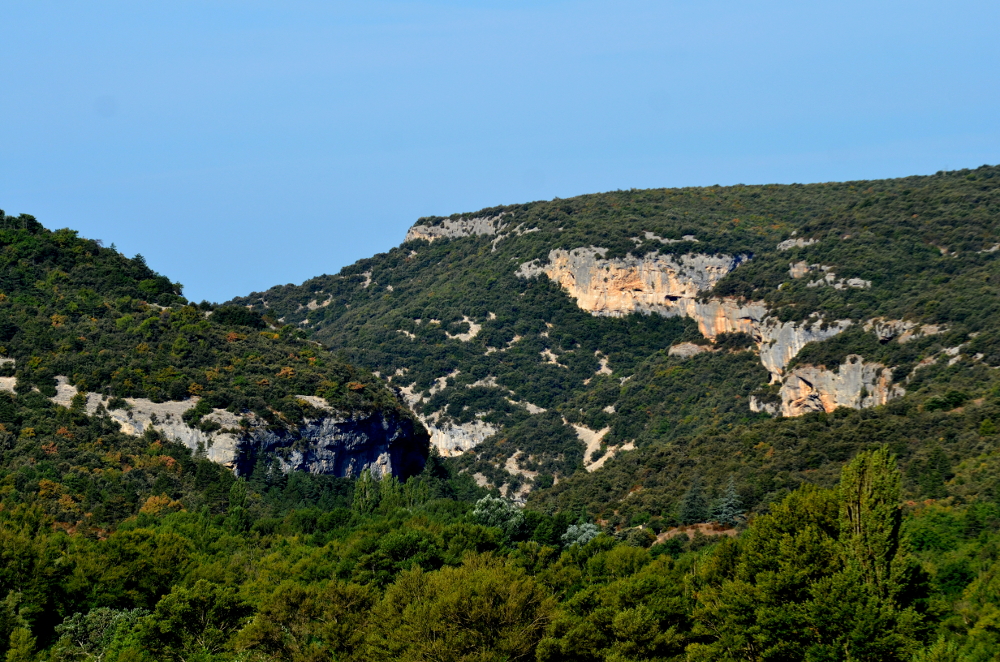 ---
Overview:
Located in the heart of provence, the rocks on the left and right side of the scenic valey offer a great variety of routes in different styles in all grades and orientations. Here everybody gets one´s money worth!
---
How to get there:
From the village Saint-Léger-du-Ventoux follow the D40 in direction of Entrechaux.
For most of the sectors take the small road to the left (sign to Auberge), which is located 750m after the exit of the village. Follow the small road till the parking place before crossing the river.
GPS Parking: N  44° 12′ 48″ , E 5° 15′ 20″
For the sectors "La Baleine" and "Andalouse" follow the D40 further in direction of Entrechaux. Just before reaching the highest point, there´s a little green hut on the right side of the street. Park at the opposite.
GPS Parking: N  44° 13′ 05″ , E 5° 13′ 53″
---
Accommodation:
There are different types of accommodations:
Camping les 3 rivières in Entrechaux (~ 13/8 km)
Hostal La Bergerie de Salamandres
Many holiday arpartments to rent in the nearby surrounding
---
Shopping:
Foods:
Small shops for basic needs in Entrechaux (~ 15/10 km), Shopping centers in Vaison-la-romaine (~ 22/17 km).
Water:
There is a spring located at the D40 crossing Saint-Léger-du-Ventoux.
Guidebook:
The topo "Escalades autour du Ventoux"  with the Addition of new routes and sectors such as "La Baleine" is obtainable at the tourist information in Vaison-la-romaine.
---
 Best season:
March till June & September till November; Due to the various orientations it is possible to climb nearly the whole year, even noticed that at winter time it could be too cold and at midsummer too hot.
---
Type of rock:
Limestone with many tufas
---
Type of climbing:
A great variety of types can be found; from relatively short and bouldery  up to 40m long and endurancing routes; from vertical faceclimbing till overhanging roofclimbing. Howerver; generally most of the routes are quite long on sligtly overhanging till steep terrain.