Location: Spain – Catalonia – Noguera – Santa Linya
---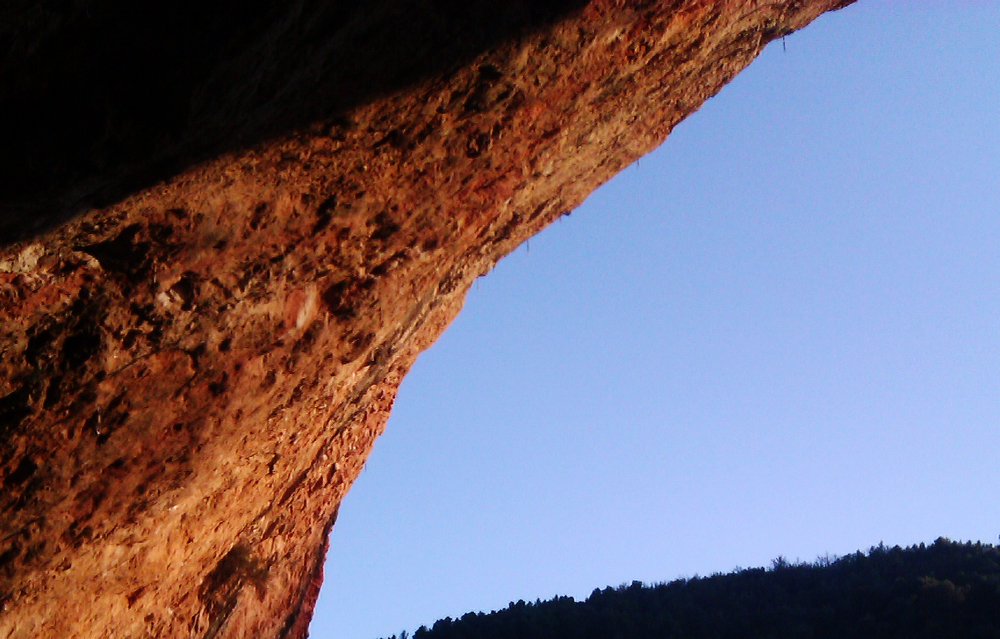 ---
Overview:
The world famous cave of Santa Linya already offered a home for Neanderthals. Today there are a huge number of hard and steep routes, that are very physical.
---
How to get there:
From Balaguer take C12 in direction of Os de Balaguer and follow for about 18km. Turn of left on LV-9042 in direction Les Avellanes/ Santa Linya and follow this street.
Sector Futbolín:
Follow the LV-9042 for about 3km , till there´s a pitch on the left side. Park Your car there. The sector is located straightly above.
GPS: N 41.922815 E 0.780670
Sector Cova Gran:
Follow the LV-9042 furher. Turn right to the signposted Cova Gran. Just bevore the village turn right to a smaller road, leading steeply downhill to the parking place. GPS-Koordinaten: N 41.924348 E 0.804603
Follow the field road till the big cave. (5min.)
---
Accommodation:
If You have a car/van/motorhome with sleep accommodation, You can stay at the parking place of sector Futbolín (GPS: N 41.922815 E 0.780670). There You have much more sun than at parking place of secor Cova Gran.
---
Shopping:
Foods:
Many foodstores in Balaguer.
Water:
In the village of Santa Linya there´s a spring located at the village square.
Climbing equipment:
The next climbing shop (Decathlon) is located in LLeida.
Guidebook:
Guidebook "Lleida Climbs"
---
 Best season:
Oktober till april
In winter-months its often very foggy.
Because of the higher altitude of the sun in autumn and spring bigger parts of Cova Gran stay longer in shade. Depending on the altitude of the sun and the temperature You can climb either on the one or on the other side in shade/sun.
---
Type of rock:
Limestone
---
Type of climbing:
At sector Futbolín vertical till slightly overhanging rock.
At sector Cova Gran at both sides slightly overhanging and in central part very overhanging type of climbing. Very physical!
---
Nearby climbing area: 
Terradets (35km)