Location: France – Provence-Alpes-Côte d'Azur – Var – Verdon
---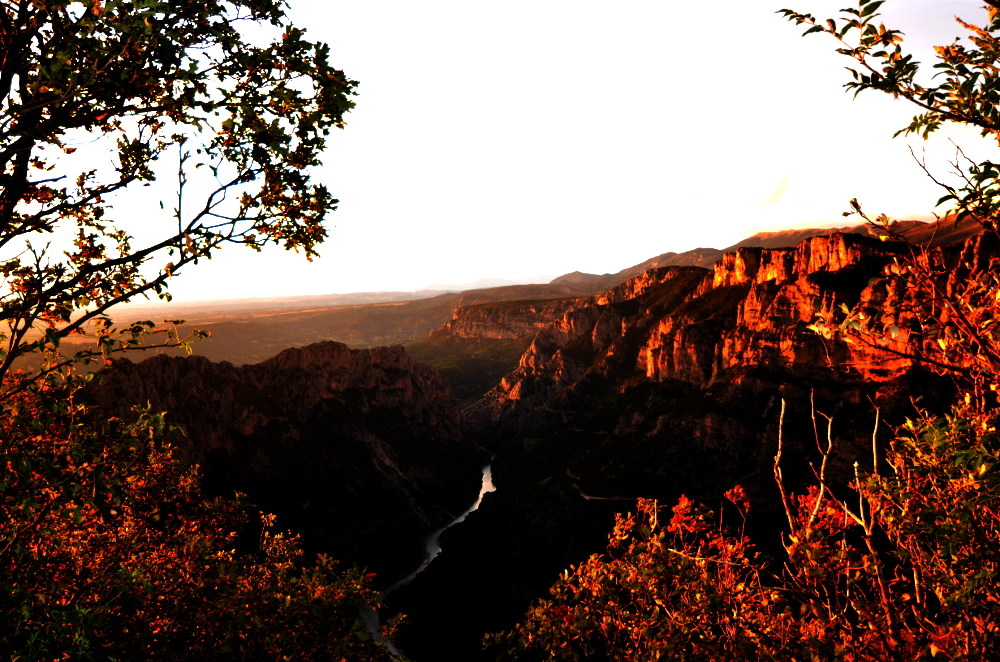 ---
Overview:
A climbing area that literally let one´s heart beating faster!  Long routes on perfectly shaped tufas, the location in the rugged "Gorges du Verdon" high above the turquoise river and the exposed and northern orientation where´s always some wind blowing making it to the perfect summer crack.
---
How to get there:
From Aiguines take the D71 in direction of Comps-sur-Artuby. About 17 km after Aiguines or 3 km after the Hotel du Grand Canyon du Verdon park between the two tunnels du Fayet.

GPS Parking: N 43° 44′ 7″ , E 6° 21′ 55″
At the tree next to the railing is a fixed rope attached. Follow the fixed ropes and after the path that travers to the left to reach the wall (20 minutes). Caution: The use of an adequate equipment as well as belaying technique is highly recommended while using the fixed ropes.
---
Accommodation:
There are different types of accommodations:
If You have a car/van/motorhome with sleep accommodation it´s very comfortable to stay at the parking place.
Camping de l´Aigle (Aiguines) (~ 17 km)

Many holiday arpartments to rent in the nearby surrounding
---
Shopping:
Foods:
Small shops for basic needs in Aiguines (~ 18 km), Shopping centers in Aups (~ 38 km).
Water:
There is a spring located in a turn at the right side of the street D71 leading from Aiguines in direction of Comps-sur-Artuby before passing the "Hotel du Grand Canyon du Verdun".
Guidebook:
The topo is avaiable at greenspits.com
---
 Best season:
June till september; It´s perfect crack for summer times due to the northern orientation as well as the exposed location in the "Gorges du Verdon", where´s always some wind blowing.
---
Type of rock:
Limestone with manly tufas
---
Type of climbing:
La ramirole is a real tufa climbing paradise: Covered with tufas, the long and steep routes through the impressive overhang demanding an athletic and endurance way of climbing.
At the side of the overhang less steep routes can be found making the climbing tecnically more demanding.