Location: Turkey – Mugla – Datca – Datca
---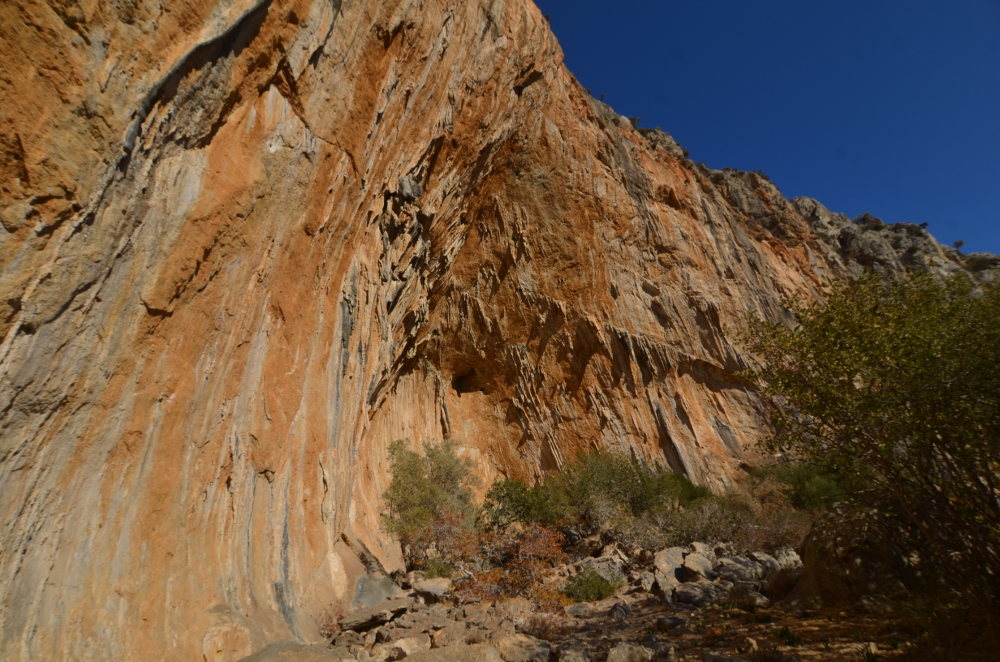 ---
Overview:

Datca, a relatively new area is located at the Turkish mainland close to Kalymnos. Therefore it seems natural that the climbing in Datca is in no way inferior. Together with the mild climate,  the beautiful landscape and the location close to the sea its a perfect holiday location.  The main sector Can Baba is an impressive cave where even the 50m long routes seem short in comparison only reaching half of its height. The rock features a mix between perfect limestone à la Siurana and many tufas creating spectacular lines. 
---
How to get there:
The airports of Antalya, Izmir, Dodrum or Dalaman offering a good starting point. From there You can continue Your travel to Datca by
Taking a rental car and drive to Datca. A rental car or at least a scooter is needed in Datca anyway to get to the sectors but it´s also possible to rent it directly in place. You may have to plan with a longer traveling time than expected due to the bad quality of the streets.
Taking a autobus to Datca
Taking a ferry boat from Bodrum to Datca
From Datca follow the main road (D400) towards Marmaris. Take the small road to the left (signs to Knidos and Ferryboat) and follow the street further in the direction of Knidos. After 2,5km leave the street and follow the signs to "Yeşil Bahçe" on a forest road.
For the sectors Nastrolopitheque, Papynosaure, Shaman, Uzak, Can Baba, Ejderha and Ay continue the main forest road until reaching a recreation ground (2,2km). Turn left and park a few hundred meters after crossing the river.
GPS Parking: N 36° 43′ 25.7″ , E 27° 37′ 20.9″
From there a path marked with cairns leads 15min uphill towards the visible, impressive cave.
---
Accommodation:
There are different types of accommodations:
Many very cheap hotels in the city of Datca

Many holiday apartments to rent in the nearby surrounding
Actually the previous climbing camp is closed until a new owner has been found… Please note that wild camping is strictly forbidden in this area.
---
Shopping:
Foods:
There are many shops and shopping centers in Datca.
Guidebook:
The Datca rock climbing guidebook is available under http://www.climb-europe.com or online under https://www.thecrag.com/climbing/turkey/datca
---
 Best season:
October/November till April/May ; Due to the various orientations it is possible to climb during a long period of the year. In winter You can enjoy climbing in the sun meanwhile in spring and autumn a fresh breeze from the sea causes a welcoming cooling down.
---
Type of rock:
Limestone with many tufas
---
Type of climbing:
Most of the sectors offer vertical to slightly overhanging faceclimbing on perfect limestone à la Siurana featuring mostly crimps and drain holes except in the easier routes where the rock is mostly slaby. An exception are the Can Baba cave as well as several other smaller caves where impressive routes on tufas can be found.